Gift-Replacement Life Insurance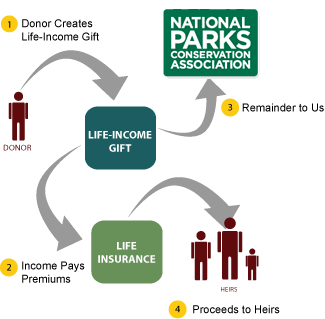 How it works

You create a gift plan like a Charitable Gift Annuity or a Unitrust that will pay you income for your lifetime.

You also create a life insurance policy, naming your children or other heirs as beneficiaries. The amount of the death benefit equals the contribution you made to create your life-income gift.

You pay the premiums for the policy from the income you are receiving from your life-income gift.

At your death, NPCA receives the remaining balance of your gift plan and your heirs receive cash in the amount of your original gift.
Benefits
You make a significant gift to NPCA with no negative effect on your family's financial security.
After your gift, your estate is replenished for the benefit of your heirs.
No new assets are required to pay for this replacement: tax-savings from the charitable deduction plus income you receive from your new gift plan pay the premiums.
Donors with large families or children who will need long-term assistance can consider helping NPCA at a level they never thought possible.
One asset can do the work of two: make a gift to NPCA, and provide an equal benefit to your heirs.
For more information
Email us, complete the personal illustration form, or call us toll free at 1.877.468.5775 so that we can assist you through every step of the process.