Testamentary Life-Income Gifts
(Gift illustration)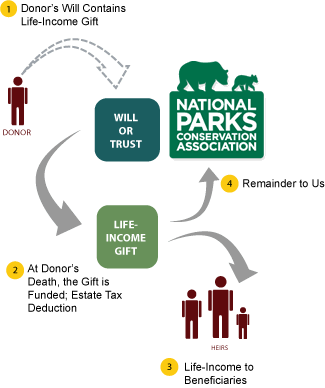 How it works

You write a will or revocable trust directing a bequest to National Parks Conservation Association.

You provide that the bequest first create a life-income gift benefiting your heirs.

After their income interest terminates, the remaining balance in the gift passes to National Parks Conservation Association.
Benefits
One estate asset can benefit both NPCA and your heirs.
Resulting charitable estate-tax deduction will lower the cost of providing for children and family.
Provisions are revocable during your lifetime, increasing your planning flexibility.
For more information
Email us, complete the personal illustration form, or call us toll free at 1.877.468.5775 so that we can assist you through every step of the process.