Longtime Activist Plans Bequest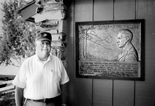 John Case might well have been born with the national parks gene. Johnís family has been involved in natural resource management since 1874. His great-grandfather was a partner of James J. Hill, the pioneer who built the Great Northern Railway, and Louis Hill, who developed the historic lodges in Glacier National Park. It was his parents and grandparents who helped instill a love for the national parks system in John, which in turn led John to become a member of the National Parks Conservation Association (NPCA) when he was a junior in high school.
"I joined NPCA because of the vital work they were doing as a supporter of and watchdog for the parks," said John, who serves on NPCAís advisory group for the Northern Rockies Region. "Today, I think their efforts are more important than ever." John and his wife, Patricia, have visited 286 national parks and monuments and usually make 9 or 10 trips to parks each year. Although itís difficult to pick a favorite site among so many spectacular natural wonders, John says his would be Montanaís Glacier National Park. "It offers an outstanding variety of natural features, some unique historic structures, and a great trail system," he said.
Much of what stirs public interest in our national parks is being threatened today, not just in Glacier but throughout the system. Visitation is up, infrastructures are failing, and historic structures are being lost. John hopes that by making a bequest to NPCA in his will, he can help ensure that our national parks not only survive but flourish. When he informed NPCA of his decision, John became a member of the Mather Legacy Society. This group is named after Stephen Tyng Mather, the first Director of the National Park Service and one of the founders of NPCA. As such, John will be recognized by NPCA throughout his lifetime for his outstanding commitment to national parks protection. "Our parks are home to landforms, plants, and animals rarely found anywhere else," John said. "They are an important part of our nationís history. We have to find ways to deal with increased visitation while protecting the parks and their resources. We have to educate the public about the park systemís needs. Hopefully, my gift will help in this vital mission."
« Back