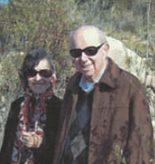 Helping NPCA Accomplish its Mission
When Bob Glasser became a member of NPCA in the 1950's, it was still called NPA (National Parks Association) At the time, there were 16 National Parks in 11 Western states. From 1953 to 1957, Bob visited all 16 on his summer vacations, enjoying the beautiful scenery and taking photographs so he could give slide shows for his friends back home. "I gave the parks a lot of good publicity," he said.
Bob was able to visit many other parks over the years. When asked which of them is his favorite, Bob replied, "It's hard to choose among Grand Canyon, Yosmite, Yellowstone, and Calsbad Caverns. But I guess I'd pick Grand Canyon. The variety of the views is astounding."
Wanting to do more to help support the parks, he and his wife, Marie, recently established a gift annuity with NPCA though the family trust.
However, with a gift annuity, we are able to give now and use the payments to generate income."
Bob hopes other people will be as inspired as he has been by the beauty and wonder of the parks. "The most pressing issue facing the parks today is getting sufficient funds to do all the thing that need to be done: upgrading the infrastructure, and maintaining the support of the public so they will make sure their representatives support the parks."
Bob and Marie say they made their gift "to help NPCA accomplish its mission: To protect and enhance America's National Park System for present and future generations."
If you would like information about making a gift to NPCA, as the Glassers and other have done, please contact us at the number below or return the enclosed reply card.
« Back