Personal Commitment Prompts Gift to NPCA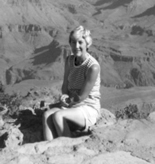 Glade Koch's late husband, John, was a U.S. patent attorney with the Atomic Energy Commission, now known as the Department of Energy. It was while John was posted in Nevada that Glade fell in love with the Grand Canyon National Park.
"We were able to visit Grand Canyon often," recalls Glade, a retired elementary school teacher. "I found the canyon's geological features fascinating!" Her fondest memory is of a rafting trip on the Colorado River that took them down the length of Grand Canyon to Lake Mead. "It was the fullest week of vacation I ever spent," she says, "a week filled with rocks, water, sky, and light. I still remember the excitement of shooting through Lava Rapid. I formed lasting friendships with my fellow rafters. Our guides were a geologist, an archeologist, and an ornithologist from University of Nevada-Las Vegas. It really was a magnificent experience." An avid birder, Glade has visited many of our national parks and found that each one has its own special character. While she is thankful that these areas have been set aside for public enjoyment, she realizes that preserving and protecting them requires personal conviction and constant vigilance. As a member of National Parks Conservation Association for more than 30 years, she knows well the depth of NPCA's commitment to our National Park System. "Having had such great experiences in the parks," she says, "I realized that helping to provide similar experiences for others in the future would be a good use of the assets my husband and I had accumulated."
Glade recently notified NPCA that she has planned a bequest to the organization through her will. By informing NPCA of her intention, she became eligible for recognition as a member of the Mather Legacy Society, which includes more than 400 individuals. The group is named after Stephen Tyng Mather, the first Director of the National Park Service and a founder of NPCA. Members periodically receive special informational mailings and invitations throughout the year and may choose to be publicly recognized in NPCA publications.
Thanks to Glade Koch's generosity and that of other like-minded supporters, the National Parks Conservation Association can continue its vital role of ensuring that the unique natural, cultural, and historical treasures found within the National Park System will be protected from human encroachment, environmental pollution, special interest groups, and other threats to their survival.
« Back