Most Worthy Organization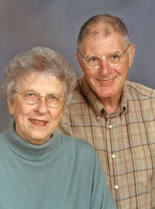 Larry Mack and his wife Jane were both born and raised in Michigan. Larry became an engineering professor at the University of Texas-Austin. Jane taught first grade for 15 years after her youngest child started kindergarten.
The Macks took their four children camping in the national parks almost every summer when they were growing up. Although they don't visit the parks as often now that their children are grown, the Macks still manage an occasional outing: Larry enjoys climbing and Jane photographs the beauty of the parks.
They became members of NPCA in 1990 and, last spring, they made this gift, Jane said, "We wanted to make a contribution to what we considered a most worthy organization. We have faith the money will be used wisely."
The Macks hope their gift will help NPCA advocate for critical solutions to some of the most pressing issues facing our national parks: increased funding for maintenance and educational interpretive programs, promoting a greater diversity of visitors, and adding new parks to the National Park System.