Donor Profile: Don and Mary McWhirter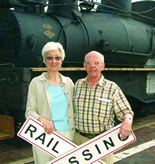 Don and Mary McWhirter of Issaquah, Washington, have been supporting NPCA since the 1970s. They learned about the organization during one of their yearly visits to a national park.
Living in Alaska for almost 20 years gave the McWhirters the opportunity to visit many of the national parks there, including Denali, Glacier Bay, and Kenai Fjords. "Alaskaís national parks are unique, and the opportunity we have had to enjoy them has made us realize the need to do what we can to preserve them." In all, the McWhirters have been to 48 national parks and 15 national historic monuments and sites. When asked if they had a favorite, the McWhirters replied, "We like them all. We havenít found any to not enjoy."
They do have some favorite and lasting memories of the parks: thunder echoing down the Grand Canyon from side to side; a visit to Washington, D.C. during the heat of the summer to see the many museums and monuments; seeing thousands of ocean birds nesting on the rocky cliffs at Kenai.
The McWhirters recently included NPCA in their estate plans through a bequest. It is their hope that this future gift will allow others to continue enjoying the parks as they have over the years. Of special concern is the preservation and ongoing management and maintenance of the national parks. "We believe the parks are worth protecting for their heritage and natural beauty."
We are grateful to Don and Mary McWhirter for their support of the parks. If you would like to join them and others who are remembering NPCA in their estate plans, please call or write for more information.
« Back