Former Ranger Remembers NPCA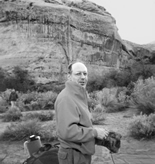 Dave Packer never grumbles about having to go into the office. Thatís because his "office" is the Sandy Hook Unit of Gateway National Recreational Area, a 26,000-acre natural wonder that sprawls across parts of New York and New Jersey. Does he realize how fortunate he is? Absolutely.
"I visit a national park every day!" says Dave, a marine biologist with the National Oceanic & Atmospheric Administrationís (NOAA) National Marine Fisheries Service. Growing up in Euclid, Ohio, Dave never got the opportunity to enjoy the beauty and splendor of our National Park System. While working on his bachelorís degree in zoology at Ohio State University, however, he volunteered with the Student Conservation Association at Washingtonís Olympic National Park, and later worked as a seasonal ranger at Assateague Island National Seashore in Maryland and Virginia. By the time he completed his graduate work in oceanography/marine ecology at the University of Maine, the die was cast. He did stints at several environmentally oriented federal agencies before settling down at NOAA.
"I have always been interested in environmental issues, and love the outdoors," says Dave, who, along with his wife, is an avid hiker and backpacker. "When I joined the National Parks Conservation Association 25 years ago, it seemed like a good way to stay involved with our national parks and help protect them."
By his count, Dave has visited more than 100 national parks and recreation areas. He has explored Canyonlands, Arches, Capitol Reef, and the Grand Canyon; floated the Colorado River; and traveled the Blue Ridge Parkway from Shenandoah National Park to Great Smoky Mountains National Park. These pilgrimages revealed more than breathtaking landscapes painted with brilliant colors. They showed him an irreplaceable expanse of our national identity that, sadly, not everyone seems to appreciate.
"One of the biggest threats our parks face today is political," says Dave. "There is a lack of political will to protect our parks and their resources. "But these are sacred places," he continues. "We need them. We need their wilderness, their history, their space, their solitude, their quiet, their excitement, their recreation, and their beauty. I work within a national park every day, in one of the most densely populated areas of the nation, so I know firsthand what contact with a park can do and what affect it has on the psyche." Daveís lifelong efforts to preserve these national treasures led him to include NPCA in his estate plans. In much the same way that a stone cast into a lake creates ever-wider ripples, he hopes that he can make a difference by allocating a percentage of his retirement plans to help support the work of NPCA. "I donít think Iíll ever be rich, so my gift wonít be large," says Dave, "but Iím hoping NPCA will use it to keep fighting for the protection of our parks."
« Back