Park Enthusiast Makes 'Excellent' Gift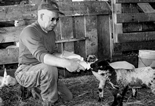 As a young boy growing up in Massachusetts, Skip Warren enjoyed his family's travel stories. In 1937, some of them had traveled coast-to-coast by car, visiting several national parks along the way.
"We went to several national parks in the East when I was a boy," he recalled, "but I really yearned to see the big Western parks." Working on his family's farm near Boston and, later, as an agent in the family-owned insurance firm, Skip didn't have much time for yearning or travel. He now lives on that same farm, the sixth generation to do so since 1782, where he raises sheep and lambs. These days, Skip is able to visit at least two national parks a year, preferring to go in winter when visitors are few. His list so far includes 20 national monuments and wildlife refuges and 30 national parks.
"Yellowstone is my favorite park because of its unique location in the Rockies, the diversity of its geological features, and its wildlife," said Skip.
Skip's involvement with the National Parks Conservation Association began in the mid-1980s. His greatest concerns have centered on environmental damage from road building and drilling for gas and oil. The opportunity to address those issues in a meaningful way came in 1997. "I had some stocks that had appreciated in value," he said. "By using the stock to fund a charitable gift annuity with NPCA, I was able to make a larger gift than I could have made through my will. I also now have additional income, and I avoided much of the capital gains tax that would have resulted had I sold the stock myself. It was an excellent decision." By supporting NPCA with such a gift, Skip is helping to ensure that the national parks he so cherishes will be enjoyed by future generations.
« Back