Supporting an 'Irreplaceable Treasure'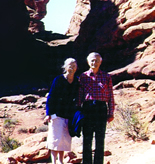 Some of John Will's favorite memories recall the wild wondrous beauty of our national parks—the deep blue sky behind Clingman's Dome during a childhood vacation to the Smoky Mountains, coming across a doe and her fawns grazing by a stream on the trail to Emerald Lake in the Rocky Mountains, a Christmastime snowfall in one of Zion's many canyons. He was eager to share similar outdoor experiences with his wife Han, whom he met during a church-sponsored work program in her native Netherlands some 50 years ago, their two children and, later, their four grandchildren.
"My father always planned a summer vacation, most often to a national park," recalled John, a retired minister who grew up in Texas. It seemed only natural that such outings would become frequent fare for John and his family. "We traveled quite a bit. Han and I served as missionaries in Honduras and also spent seven years in the Middle East and Central and South America when I was a foreign service officer with the U.S. State Department." On trips home, visits to the parks were a way to reconnect with the country's untamed beauty. John and Han feel that our national parks need a strong advocate to push for improved infrastructure, protection from outside development and exploitation, and increased public awareness of the park system's many challenges.
"As the nation approaches the National Parks Centennial in 2016," said John, "we need to make our families and friends aware of the irreplaceable treasure that is ours in our national parks."
Firm believers in supporting causes that reflect their core values, John and Han have established charitable gift annuities with NPCA and other organizations that share their long-term interests and goals.
"We enjoy the additional income, and the tax deduction played a role in our decision, but not a major one," said Han. "For us, it's important to know that the parks will receive continued advocacy and support and therefore have a future." "Each visit to a national park pumps up the adrenaline!" said John. "What new thing, what new experience, what new beauty lies just round the next bend in the trail? We look to the NPCA to keep it that way, such that our granddaughters and their children may be able to say the same.
« Back